Keeping Your Press Brake Assets Like New
For Press Brake Operators, having tooling that is clean and undamaged is critical to consistently turning out quality products.  The very nature of metal forming and bending will, over time, damage the tooling you rely on every day.  Florida Knife has the capability to grind your parts back to factory specifications to keep you up and running and to extend the life of your assets.
Contact Florida Knife's Central Florida Sales Office today to speak with our technicians about refurbishing and repairing your press brake tooling.
Before Grinding & Reconditioning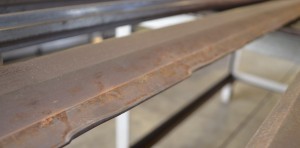 Grinding Produces Clean and True Lines